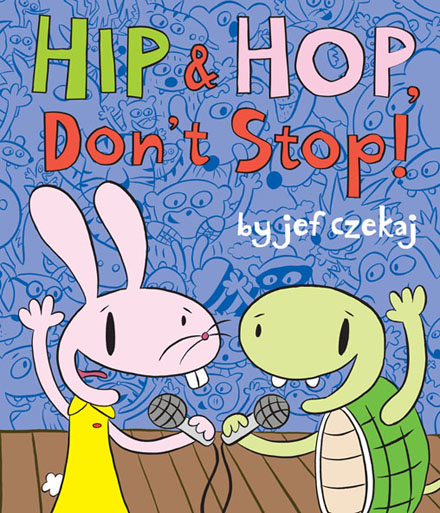 Hip is a turtle who raps really slowly. Hop is a bunny who raps superfast. One afternoon they see a poster for a rap contest and become friends. On the day of the big event, rappers like LudaFish and Notorious P.I.G. take the stage. It comes down to a rap-off between Hip and Hop, but this time neither slow nor fast wins the prize.

Hilarious mini-raps recited at varying speeds make for a rollicking read-aloud that kids will want to hear—and perform—over and over.
Hip and Hop have their own blog, webpage, facebook, and twitter pages! The book also has a cool book trailer.
Reviews

"Czekaj has produced a good-spirited, high-octane read-aloud. A river of brotherhood runs through the proceedings, and the artwork is particularly friendly..." -Kirkus Reviews

"strikes true to the ingrained coolness of hiphop" -Hip Hop Archive, Harvard University

"Czekaj's bright, fun art style is consistent with his previous work, including illustrations for Nickelodeon Magazine and The Circulatory Story (2010), and he includes plenty of humor in the words, action in the layouts, and visual clues to heighten the experience of reading (or rapping) aloud." -Booklist

Awards and Distinctions: 2011 New England Art Award Nominee, Junior Library Guild selection.

Buy it at your local indendependent
bookstore or at one of these sites:
published by Balzer & Bray/ Harpercollins