JEF DRAWS PICTURES AND WRITES STORIES.
Jef Czekaj is a cartoonist, children's book author and illustrator, and musician.

Jef has written and/or illustrated 12 books with titles like Hip and Hop Don't Stop!, Cat Secrets, A Call for a New Alphabet, and Austin, Lost in America.
His books have been named Junior Library Guild selections, designated "Must Read" by the Massachusetts Center for the Book, and won awards with names like the Black-Eyed Susan Book Award and the Young Hoosier Book Award.

His comic, Grampa and Julie: Shark Hunters, ran in Nickelodeon Magazine for more than 10 years. A collection of the first three years of the comic was published with the help of a Xeric Foundation Grant and distributed byTop Shelf.

He DJs for an award-winning hip-hop group under an assumed name.

Jef lives and works in Somerville, MA.
BTW, Czekaj is pronounced "check-eye"!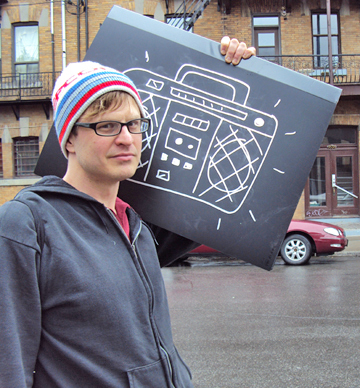 photo by Jacy Edelman
(click for a hi-res press-worthy version)