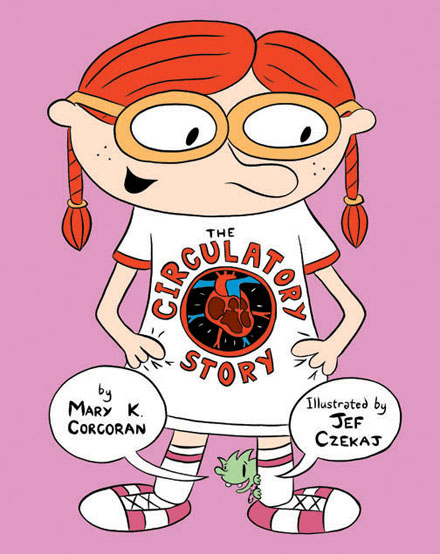 Buy it at your local indendependent
bookstore or at one of these sites:
by Mary K. Corcoran, illustrated by Jef
A trip through the circulatory system!
Simple, humorous text and comic illustrations explain the basics of the circulatory system--the systemic, pulmonary, and coronary circuits. Readers follow a red blood cell on its journey through the body, and in the process learn how the body combats disease, performs gas exchanges, and fights plaque.
Reviews
"Showing why 'it's great to circulate,' the author and illustrator of The Quest to Digest (2006) take young readers on an equally engaging ride through the heart, lungs, arteries, veins, capillaries, and back again. In the big, labeled cartoon illustrations a small, green Shmoo-like creature rides a red blood cell down a river of plasma ('YEE HAW!'), 'passes gas' to a body cell in exchange for a bag of CO2, sits back to watch as white blood cells and platelets race to a skinned knee, then threatingly wards off a cheesburger and other fatty, aterial plaque-causing foods." - Booklist
Mary Corcoran takes the body's circulatory system and makes it understandable for young readers. Relying on Jef Czekaj's cartoon-style illustrations, the author explains how the blood cells travel throughout the body and how blood works. - Book Ideas
Awards and Distinctions: A Junior Library Guild Selection

published by Charlesbridge Publishing