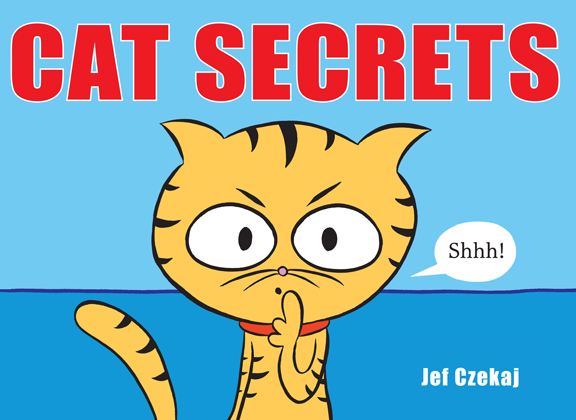 Buy it at your local indendependent
bookstore or at one of these sites:
I'm sorry—this book is not for you. This book is for CATS ONLY.
What's that you say?
You are a cat?
Okay . . . get ready to prove it!
Reviews
"Czekaj's irresistible cartoon art is both bratty and expressive." -Booklist

"Czekaj's expressive, high-contrast, high-energy cartoons put the cats front and center..." -Publishers Weekly

"Czekaj's cartoons done in a palette of primary colors and with expressive use of speech bubbles and eyebrows make this a comedic gem. The book has obvious appeal as a read-aloud, with its instructions and large-format cartoons, but it has the intimacy of a story to be read independently." -School Library Journal

"There's read-alone potential here as well as read-aloud, but most of all there's pretend-to-be-a-kitty potential, and kids will find the opportunity irresistible." -BCCB (Bulletin of the Center for Children's Books)
Awards and Distinctions: Junior Library Guild Selection, Young Hoosier Award 2013-14, Iowa Goldfinch Award 2012-13, Top Ten Pick @indiebound.com, Finalist for the Best Book of 2011 at Goodreads.com, Finalist for Boston Phoenix's Boston's Best Book of 2012, Recommended book on the Texas Library Association's 2012 2x2 Reading List.
Cat Secrets has its own webapge, facebook, and book trailer!
published by Balzer & Bray/ Harpercollins